The Biomass Research and Development Board's Algae Interagency Working Group (IWG) is responsible for communicating and coordinating federal research, development, and demonstration activities relating to algae and the beneficial production, use, and application of algal biomass for the commercialization of a wide range of biobased fuels and products for the bioeconomy.
The working group provides a mechanism for information exchange within the federal community and with outside stakeholders. It also recognizes that the production and use of algal biomass and bioproducts must be achievable in a sustainable manner within an appropriate regulatory framework, and thus the Algae IWG considers environmental impacts of these activities as an integral part of its responsibility.
What Is Algae?
Algae encompass a broad category of organisms that can be classified into two main categories:
Microalgae (microscopic photosynthetic eukaryotic organisms and cyanobacteria)
Macroalgae (seaweed).
Typically microalgae is produced in cultivation systems on land, whereas macroalgae is harvested from oceanic seaweed farms. Algal biomass can be converted into the following products, including:
Dietary supplements
Pigments
Human foods
Animal feeds
Fertilizers
Bioplastics
Biofuels.
Why Is this Important for the Bioeconomy?
Algae are productive crops that can leverage resources that do not compete with agricultural uses, such as brackish water in the southwest and offshore along our expansive coastline. Portions of algal biomass not used for food or feed purposes can be converted into renewable fuels and products.
Worldwide macroalgae production has been growing at 8% a year for the last decade and is currently at 28.5 million wet tons per year.[1]
A 2017 U.S. Department of Energy (DOE) National Laboratory analysis estimates that the United States has the land and resources to sustainably and economically produce 104 to 235 million metric tons of microalgal biomass and over 5 billion gallons gasoline equivalent of algal biofuels per year, assuming productivity and fuel yield targets are reached.[2]
In 2018, the global market for algal products was estimated at $3.98 billion and is projected to reach $5.17 billion by 2023 based on trends in the food and beverage, dietary supplements, and personal care industries.3
What Are the U.S. Government's Goals for Algae?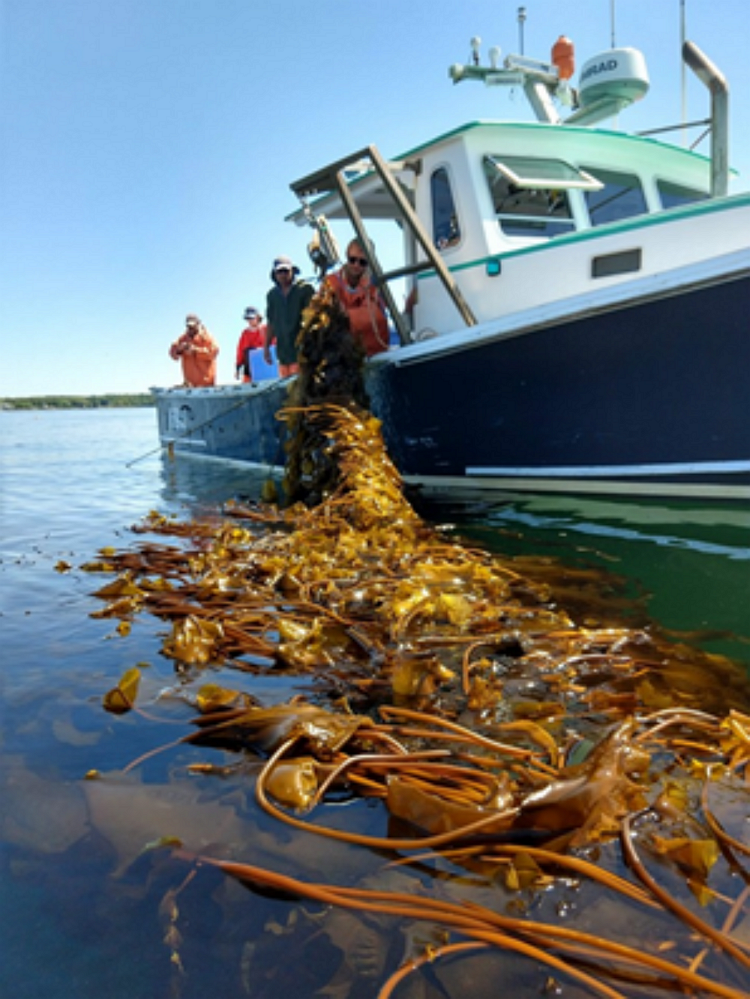 Commodity-scale sale of algae for products such as biofuels and bioplastics has yet to be achieved due to the high cost of algal cultivation, harvesting, and logistics. Recoverable bioproducts are highly dependent on the composition of the algal biomass, which is dynamic and dependent on the algal strain, nutrient inputs, and the cultivation environment.[3]
Federal agencies such as the DOE, U.S. Department of Agriculture, National Oceanic and Atmospheric Administration, and National Science Foundation are funding strategic research and development in complementary areas to increase algal biomass productivity and product yield in economically and environmentally sustainable systems.
What Progress Has Occurred?
The Biomass Research and Development Board's Algae IWG meets to discuss U.S. federal funding and regulatory activities to increase awareness and coordination among algae-relevant government programs.
In July, 2020, the Algae IWG published the Federal Activities Report on the Bioeconomy: Algae. The primary goal of this document is to share information on the breadth and scope of federal resources available to researchers and companies seeking to understand and use algae for the benefit of the bioeconomy. Ideally, readers of this report will discover a new source of available funding or receive clarity on regulatory oversight on product development.
This report also includes information on external engagement opportunities (e.g., workshops, notice and comment on the proposed rulemaking, and requests for information) to show how stakeholders can get involved in Algae IWG activities and provide information and feedback to members of the Algae IWG.
References
Food and Agriculture Organization of the United Nations. 2016. The State of the World Fisheries and Aquaculture 2016. Rome, Italy. http://www.fao.org/3/a-i5555e.pdf.
Ryan E. Davis, Jennifer N. Markham, Christopher M. Kinchin, Christina Canter, Jeongwoo Han, Qianfeng Li, Andre Coleman, Sue Jones, Mark Wigmosta, and Yunhua Zhu. 2018. 2017 Algae Harmonization Study: Evaluating the Potential for Future Algal Biofuel Costs, Sustainability, and Resource Assessment from Harmonized Modeling. Golden, CO: National Renewable Energy Laboratory. NREL/TP-5100-70715. https://www.nrel.gov/docs/fy18osti/70715.pdf.
MarketsandMarkets. 2018. Algae Products Market by Type, Application, Source, Form and Region - Global Forecast to 2023. (ReportLinker, April 2018). https://www.reportlinker.com/p05385681/Algae-Products-Market-by-Type-Application-Source-Form-And-Region-Global-Forecast-to. html.